Les Edwards has been a professional illustrator for fifty years.
He has worked in many areas but is perhaps best known for the large nunber of book jackets he has produced in the Horror, Fantasy and Science Fiction genres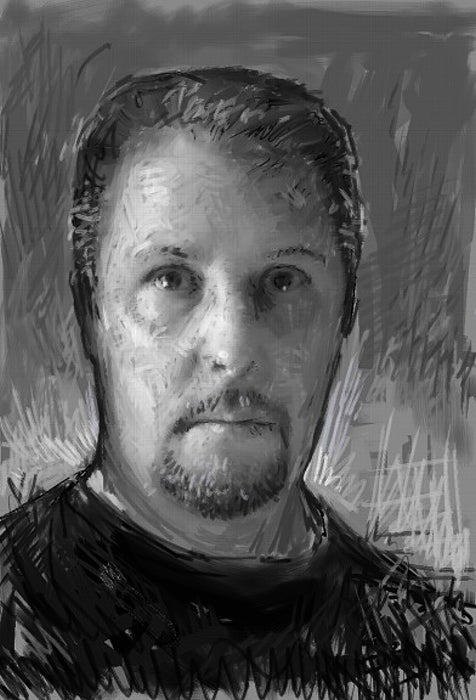 Les studied at Hornsey College of Art in North London from 1968 to 1972. After leaving there he was recruited by the Young Artists illustration agency, which was then run by John Spencer. He has been a professional illustrator ever since. He is now represented by his wife Val Edwards.
Over the years his work has included major advertising campaigns, movie posters including John Carpenter's The Thing and Clive Barker's Nightbreed and has also included work in gaming and film production.
He has illustrated two graphic novels based on stories by Clive Barker, Son of Celluloid, about an ambulatory cancer, and Rawhead Rex, which tells of the adventures of a baby-eating monster and has absolutely no connection to his own views on children. Both books were critically acclaimed.
In recent years Les has taken to painting under the pseudonym "Edward Miller" in order to do a different kind of work and use a more romantic style.
He is a seven time recipient of the British Fantasy Award for Best Artist, has been nominated for a World Fantasy Award five times (his alter-ego Edward Miller won it in 2008), and for a Chesley Award on five occasions as well. He has also been a Guest of Honour at a World Science Fiction Convention, World Fantasy Convention and a World Horror Convention.
Although he is now officially "retired" from illustration work he still sneakily takes on the occasional publishing job if it's interesting, but spends most of his time painting a variety of commissions for private clients.
In his spare time he insists on buiding plastic model kits, even though he has nowhere to put them, pretending he can play blues guitar, just to annoy the neighbours and enjoying the many delights of the South Coast.
He lives in Brighton in East Sussex, England, with his wife, Val.